Family of Ms. Zhu
Location: Guangzhou, China
Number of Children: 1( 5 years)
Languages Spoken: Chinese, English, Russian
Nationality Preferences: Native English Speaker
Available to Start: Any time
Period: 6-12 Months
A Letter to Au Pair
Dear Au Pair,
How are you going?
I'm host mum Mrs. Zhu. Firstly, you are highly welcome to be a part of my family as an Au pair to live with us.
Let me introduce my family member, including me, my husband Mr. Li and my son Allen.
The grandparents will seldom come to live with us. Allen is 5 years old, who goes to the kindergarten in workdays daytime.We expect an au pair to help with his English study and be responsible for his daily study.
You are expected to cook some breakfast in the mornings for Allen, and get him to and from the kindergarten as well as tutoring with his homework.
We hope he is able to communicate with you in English, while sharing different cultures and customs between the two countries so as to improve each others' language skills. We hope you can have fun here and study with my kid and share us with your experience.
We have a nanny and a cleaner to clean most rooms, thus you only need to keep your own bedroom clean and sort out Allen's bedroom as well as his toys and books.
We expect that you are sunny, active, patient and simply experienced in teaching children. We sincerely expect your arrival and being a part of my family. Then he has a chance to stay and play with you, so that you both can be happier and get better. We will try our best to make you feel at home and have a good experience in China.

We appreciate you thinking about my family. We hope to hear you soon. Please feel free to let me know if you have any questions about us.
Yours sincerely,
Mrs. Zhu
Living Room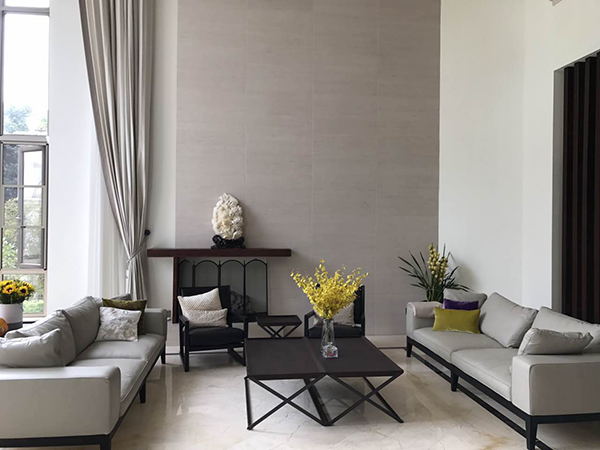 Garden