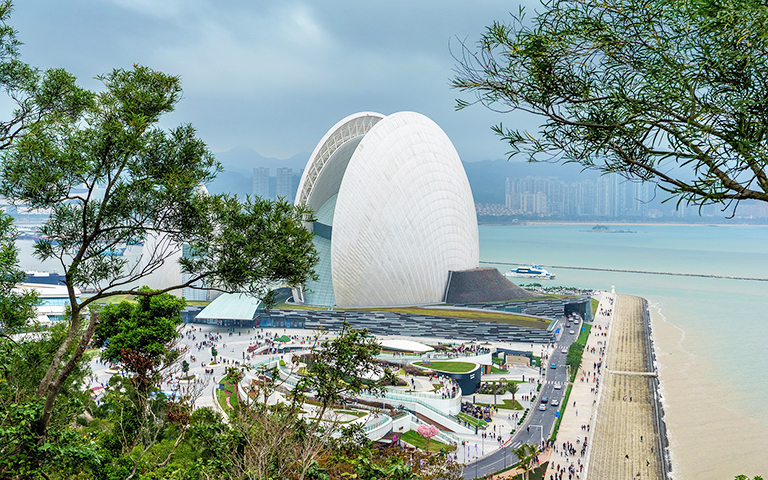 Zhūhǎi (Chinese: 珠海) is a prefecture-level city on the southern coast of Guangdong province in the People's Republic of China. Located in the Pearl River Delta, Zhuhai borders Jiangmen to the northwest, Zhongshan to the north, and Macau to the south. Zhuhai was one of the original Special Economic Zones established in the 1980s. Zhuhai is also one of China's premier tourist destinations, being called the Chinese Riviera.
Geography
Zhuhai borders the Macau Special Administrative Region (north and west), and 140 km southwest of Guangzhou. Its territory includes 146 islands and a coastline of 690 km.
The islands within the prefecture-level city of Zhuhai include a number of near-shore islands, often connected to the mainland by bridges or causeways (such as Hengqin, Qi'ao, or Yeli Islands), as well as some islands further away in the Pearl River estuary (such as the Nei Lingding Island) or the open South China Sea (the Wanshan Archipelago). Some of the latter are actually geographically closer to Hong Kong than to the Zhuhai mainland.
Zhuhai has a humid subtropical climate affected by the East Asian Monsoon (Koppen classification Cwa) and moderated by the South China Sea, with long, hot and humid summers with frequent thunderstorms, and short, mild and dry winters. Average highs in January and July are 18°C (65°F) and 32°C (90°F) respectively. It never snows and a frost has never been recorded in the city centre. Conversely, extreme heat waves do not occur as they do further inland.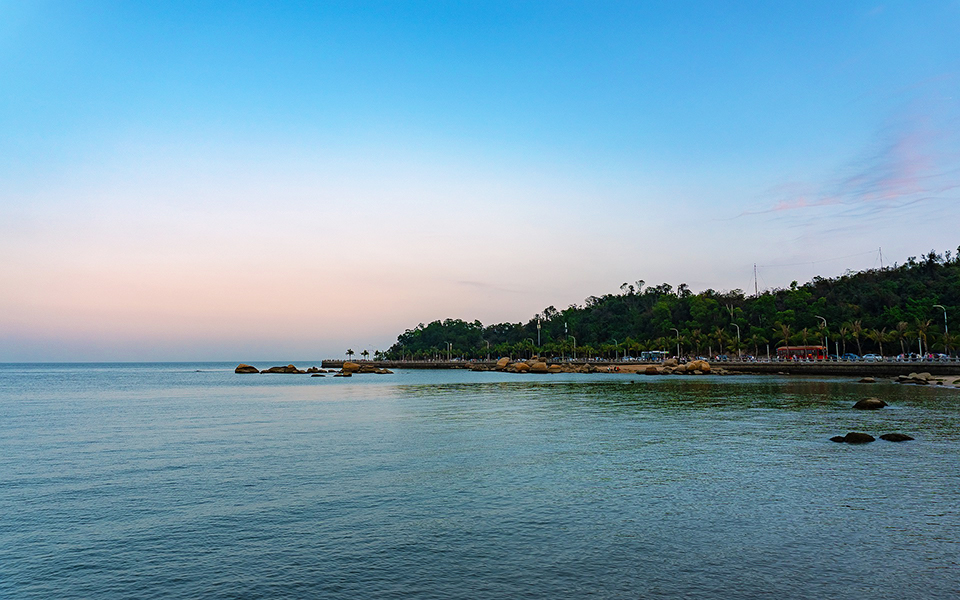 Economy
Zhuhai became a city in 1979, a year before it was named as one of the first Special Economic Zones (SEZ). The neighboring city of Shenzhen became the first Special Economic Zones of the Special Economy Zone in 1978. The implementation of this policy is logical as Zhuhai is located on the strategic position facing Macau, in the identical fashion by which Shenzhen faces Hong Kong. This enabled the Chinese Central Government to open another "window" in front of Macau. Even though the city is situated at the southern end of the Pearl River Delta area, Zhuhai acts as one of the central cities in the Pearl River Delta according to the new general urban plan approved by the State Council. The implementation of Special Economy Zone means that the city will grow as a powerful modern port city, science and education city, scenic and tourism city, and as a regional hub for transportation.
The outstanding geographic location, a wide range of supporting infrastructure and a deep-water port serve as a major attraction for foreign capital. Utilized foreign investment reached US$ 10.344 billion in 2008. Among the top 500 enterprises worldwide, 19 of them have investment projects in Zhuhai such as ExxonMobil, British Petroleum, Siemens, Carrefour and Matsushita. Hong Kong is the largest foreign investor in Zhuhai accounting for 22% of total utilized foreign investment in 2002.
Manufacturing industries
Industrial development in Zhuhai focuses on 5 new high-tech and heavy industries including electronics, computer software, biotechnology and pharmacy, machinery and equipment as well as petrochemical industries. Aiming to strengthen the existing industrial base as well as to provide a better environment for the development of new high-tech industries, the local government has taken the initiative in developing five economic zones:
Zhuhai High-Tech Industrial Development Zone
As one of the 4 earliest Special Economic Zones (SEZs) in China, Zhuhai SEZ was set up in the year 1980 and granted with a local legislative right. Zhuhai hi-tech zone is located in the north of Zhuhai, which is very close to downtown. Furthermore, technological resources are centralized in our zone; there is also a huge development in hi-tech industries which is leading by software and IC industries. Hi-tech zone is the show room where Zhuhai implements the scientific development.
Zhuhai Free Trade Zone
Zhuhai Free Trade Zone (Zhuhai FTZ) was founded in 1996 with the State Council's approval, occupying 3 square kilometers. Zhuhai FTZ Administrative Committee was set up in June 1997. By the end of 2006, there had been over 200 companies registered in the Free Trade Zone, including more than 150 foreign-funded enterprises, and the total investment amount was 1 billion US dollars. Industries encouraged in the zone includes Electronics Assembly & Manufacturing, Telecommunications Equipment, Building/Construction Materials, Instruments & Industrial Equipment Production, Medical Equipment and Supplies, Raw Material Processing, Research and Development, Shipping/Warehousing/Logistics, Heavy Industry.
Harbour industrial zone (provincial level)
Wanshan ocean development testing zone (provincial level)
Heng Qin economic development zone (provincial level)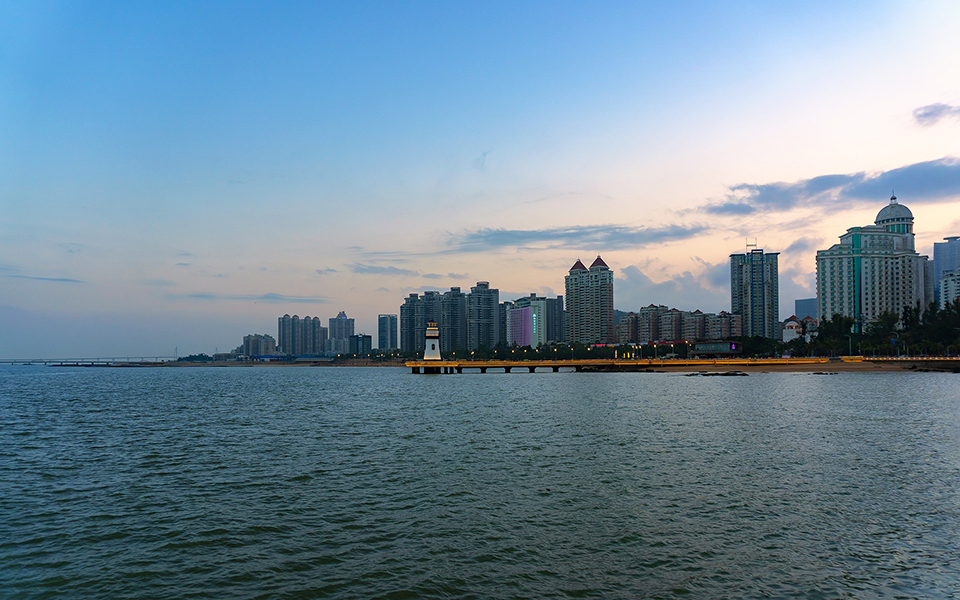 Transpotation
Air
Zhuhai Sanzao Airport (IATA: ZGSD, ICAO: ZUH), international airport hosting an annual air show and an exhibition hall, with Chinese space rockets is located in Jinwan District.
Jiuzhou Heliport (九州直升飞机场) (ICAO: ZGUH), is located in Jiuzhou district, near the harbour, and has short plane runway and an helipad. Its place inside Jiuzhou inner district, permits quick transport of injured people from surrounding islands to the city hospitals.
Land
At present, there is an expressway linking Zhuhai and Foshan. Heavy traffic between Zhuhai and Macau has led to the construction of a new cross-border corridor, the Lotus Bridge, built in November 1999 to divert traffic away from the congested Gongbei Port of Entry. As part of the Pearl River Delta integration, a Hong Kong-Zhuhai-Macau Bridge is projected.
Zhuhai presently lacks a railway connection, but, as of 2009, construction is under way on two rail projects: Guangzhou-Zhuhai Railway (which will be used primarily for freight transportation), and Guangzhou-Zhuhai Intercity Mass Rapid Transit. The first stage of this MRT opened on January 7, 2011 between Guangzhou South Station and Zhuhai North (also known as Jinding Station). Travel time is 49 minutes.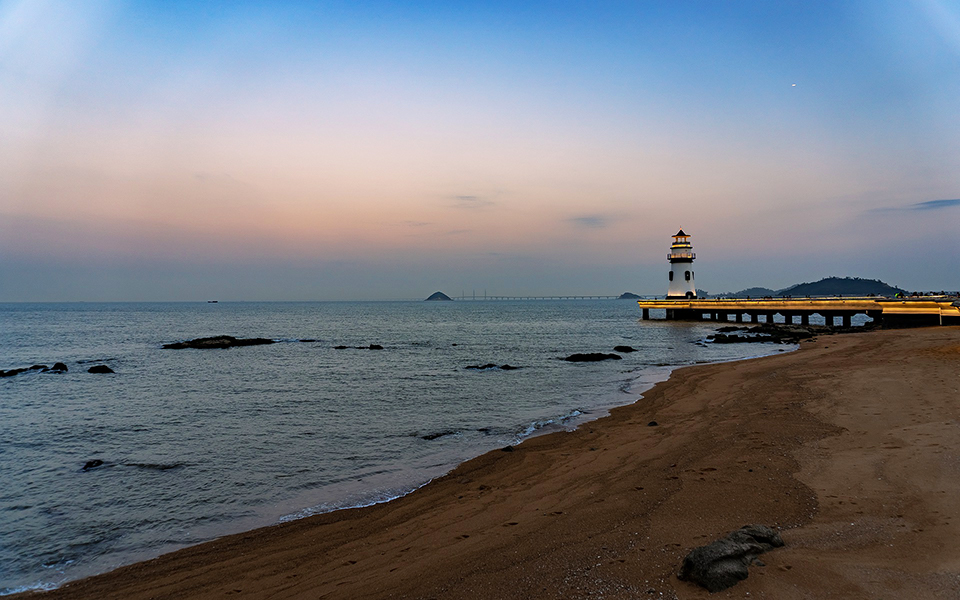 Sea
An attractive and clean environment and good deep-port condition are advantages of Zhuhai. Endowed by a long coastline, Zhuhai is the only city on the western Pearl River Delta with natural deep-water ports.
Zhuhai has two international seaports: Jiuzhou (九州港) and Gaolan (高蘭港). Gaolan Port is one of the leading ports in Guangdong province, while Jiuzhou Port focuses on heavy passenger sea transport.
Chu Kong Passenger Transport operates a ferry service between Zhuhai's Jiuzhou Port, Hong Kong and Shekou (蛇口,)which is the Shenzhen ferry port. A service between Jiuzhou Port and Hong Kong International Airport for air passengers using the airport began on 10 July 2007.

Tourism
Zhuhai's attractive environment and surrounding landscapes help its reputation within China as a garden city and its quality of life. In 2002, the city attracted 1.3 million international tourists and 3.64 million domestic tourists. Following Guangzhou and Shenzhen in Guangdong province, Zhuhai has the largest amount of foreign tourism, which amounted to billion in 2002.
Zhuhai hosts the China International Aviation & Aerospace Exhibition biannually in November. It is the largest Air Show in China and a huge tourist attraction.
Realizing the substantial benefits brought by tourism, the local government is constantly improving the existing tourist spots and exploring new tourist resources. The local government is developing new tourist spots such as Hengqin (橫琴島), Dong'ao (東澳), Hebao (荷包), Qi'ao (淇澳島) and Yeli (野狸).
Highlights
The New Yuan Ming Palace (圓明新園) is a park of 1.39 k㎡, including an 80,000 ㎡ lake. It features a partial reconstruction of the Old Summer Palace in Beijing, destroyed in 1860 by French and British troops during the second Opium War, which was never rebuilt on its original site.
Education
Strategic development
Developing a university park is Zhuhai's strategy to strengthen its high-tech and IT industries. Compared with Beijing and Shanghai, Zhuhai and other cities in Guangdong province face a serious shortage of talent and professionals, making this goal difficult. The local government is taking major initiatives to set up a university park with an area of 20 k㎡, the only one in the western Pearl River Delta.
Colleges and universities
Zhuhai College of Jinan University
Beijing Normal University,Zhuhai Campus
Zhuhai College of Beijing Institute of Technology
Zhuhai Campus of Sun Yat-Sen University
Zhuhai College of Jilin University
United International College
A number of other colleges and universities are also located in or near Zhuhai. Beijing Normal University Zhuhai Campus was created as a new model university in China.Besides its high quality of education,it is more international than general universities in China.Many students here prepare to go abroad to finish their junior and senior years.
Sports facilities
Zhuhai is the first city in China to have constructed a motor racing circuit. The Zhuhai International Circuit was built in 1996 and is located at Jinding, near the border to Zhongshan.
ZIC has held the BPR Global GT Endurance Series in 1996, the FIA GT Championship in 1997, 1999, 2004 and 2005. It hosted the championship's 2007 opening round on 24th and 25 March. ZIC had planned to host a round of the Champ Car World Series on 20 May 2007, but agreement was not reached. ZIC held an A1GP race in 2007 for the first time in series' history. ZIC became the first venue in China to host the Intercontinental Le Mans Cup on 7 November 2010 when the 2010 1000 km of Zhuhai was staged.
Residential environment
Zhuhai's international accolades include "the Best Model of International Residential Environment Improvement" awarded by the United Nations.